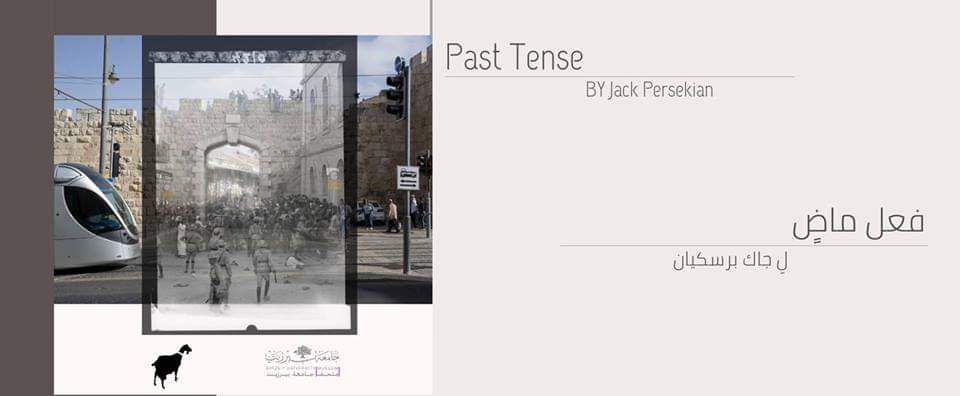 Birzeit University Museum is pleased to host the exhibition "Past Tense" of the artist Jack Persekian, in the context of urging the community to discuss its present and to explore its future. Needless to say that Jerusalem stands at the top of the challenges that we face.
Jerusalem's landscape, as we know it today, is merely a surface layer, a slice in a long tumultuous history that has witnessed a succession of takeovers by people and civilizations from the preceding ones. Over time, layers are obscured and sometimes obliterated to the point where only a few traces or ruins can be found. Since the turn of the nineteenth century and the invention of photography, our relationship to how we see, comprehend, and communicate our understanding of history and time has dramatically changed. Today, the act of photographing and sharing with others the present moment, the happening, the sheer unadulterated act, preoccupies much of the world.
By superimposing an additional layer – a photograph taken today of the same location, shot from the same spot and angle – over that taken by a photographer some one hundred years ago, we are able to move between two distinct times. This allows us to study the changes that occurred, compare the different times, align the physical transformations with the events that took place in the city and around the region during the last century or so, and examine the changed landscape and forces at play that impacted the new environment.
Jack Persekian
Founder and Director of Al-Ma'mal Foundation for Contemporary Art and Gallery Anadiel. Previously, held the position of Director and Head Curator of the Palestinian Museum (2012–2015); Director of the Sharjah Art Foundation (2009–2011); Artistic Director of the Sharjah Biennial (2007–2011); Head Curator of the Sharjah Biennial (2004–2007); Founder and Artistic Director of The Jerusalem Show (2007–present), and Qalandiya International (2012-2014).
Exhibitions and projects include: Past Tense, Birzeit University Museum, and the Jerusalem Quarterly, Spring 2019 – Issue 77, Institute of Palestine Studies; at the Municipality of Ramallah and Mousa Afandi Center in Jerusalem, (2019); The Khalidi Library Jerusalem: Knowledge, Place and Time – Inaugural exhibition (2018); After Matson, Albright Institute, Jerusalem (2017); In the Presence of the Holy See, Bethlehem and Dheisheh Refugee Camp (2014); Nablus Soap performances (2010-12) at the Beirut Art Center; Abu Dhabi Art (with Tarek Atoui); ICA London; Hammer Museum – LA, MIT – Boston; MoMA – NY; The New Museum – NY; Rote Fabrik – Zurich; Darat Al Funun – Amman; Artspace – Sydney; the Adelaide Festival of Arts, Australia; Wall of Soap at the World Economic Forum, the Dead Sea Movenpick, Jordan (2004). Persekian is recipient of the Order of Culture, Science and Arts, Innovation level, from the State of Palestine (2016), Persekian lives and works in Jerusalem.