Dr. Rana Barakat
Director
+970 2 298 2976 / ext: 5440
Rana Barakat is assistant professor of history at Birzeit University in Palestine, and the director of the university museum. She received her PhD in History from the University of Chicago. Her research interests include the history and historiography of colonialism, nationalism, and cultures of resistance. She is currently completing a book monograph titled "Lifta and Resisting the Museumification of Palestine: Indigenous History of the Nakba", contracted with the University of North Carolina Press for the "Critical Indigeneities" series. The project advances an indigenous understanding of time, space, and memory in Palestine by focusing on the details of the people and place of Lifta village over time.  Barakat also has a second book project in the works, "The Buraq Revolt: Constructing a History of Resistance in Palestine."  Her articles appear in Palestine Studies, Jerusalem Quarterly, Native American and Indigenous Studies, Contemporary Levant, and Settler Colonial Studies, along with other academic journals. In Spring 2019, she held the Arcapita Visiting Professorship at the Center for Palestine Studies, Columbia University. She serves as Policy Advisor for Al-Shabaka.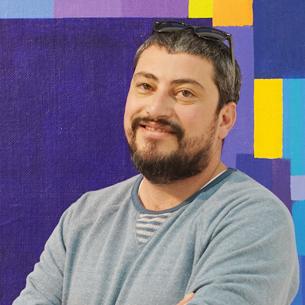 Ziad Yousef HajAli
Art Production Manager
+970 2 2982976 / ext. 5503 or 2562
Ziad is a Palestinian multidisciplinary artist who holds a Bachelor's Degree in Fine Arts from Jordan. He works and lives in Ramallah, Palestine, and has been working at Birzeit University Museum since 2009.
Ziad has various public experiences through his participation in many local arts and cultural activities. During his work He produced and assisted in producing art works with Palestinian and international artists.
Dona Zarour
Administrative Assistant
Currently, Dona holds the position of the Administrative Assistant at Birzeit University Museum, as she manages the administrative coordination and financial follow-up. Dona has over 12 years of work experience in the different department of the University.
In addition, as part of her position as the Administrative Assistant at Birzeit University Museum, Dona supervises all logistic operations in the Museum, follows up and coordinates administrative issues, schedules meetings, and contact the University's different departments and the external organizations. Furthermore, she follows up on financial issues related to the Museum, in addition to many other activities.