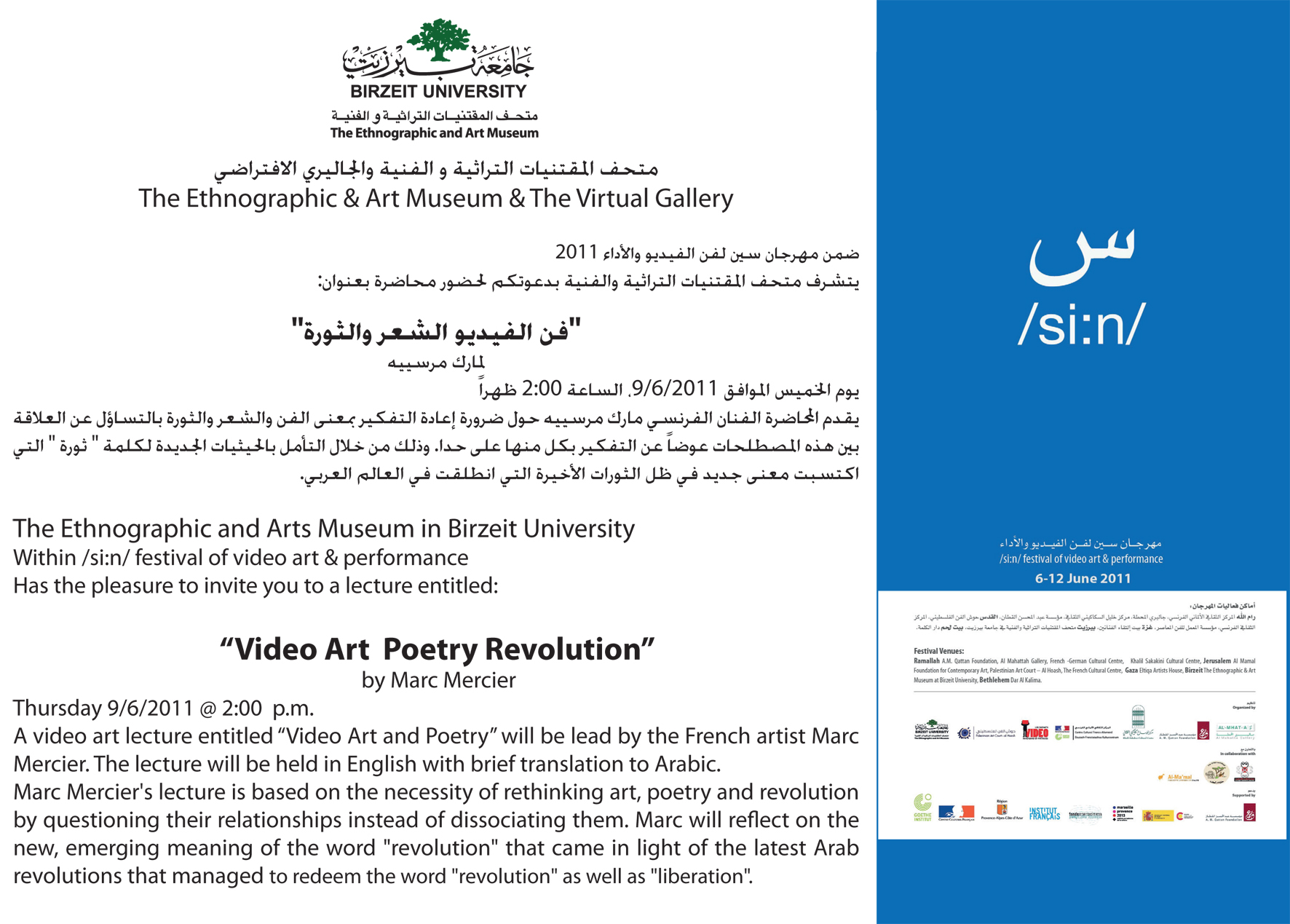 A lecture by Marc Mercier given during The Second /si:n/ Festival of Video Art & Performance
The second /si:n/ festival of video art & performance launches with a rich and diverse spectrum of video art & performance works by dozens of international, Arab and Palestinian artists. In addition to screenings & installations of video art and performances by Palestinian artist, the festival invited international guest curators to curate programmes of video art from Morocco, Egypt, Kyrgyzstan, Croatia and Quebec. The festival features works by prominent artists from around the world, and in addition to lectures and talks by guest artists, there will be a series of live performance works and a workshop.
Participating artists: Marc Mercier (France), Paul Lee (Canada), Medrar with the contribution of Mohamed Abdelkarim (Egypt), Toni Mestrovic (Croatia) and Abdellah Karroum and l'Appartement 22 (Morocco), Dominik Barbier and Flavie Pinatel (France), Toni Mestrovic (Croatia), Mariana Vassileva (Bulgaria/Germany), Shaarbek Amankul (Kyrgyzstan), Guido'Lu (Belgium); and Shadi Habib Allah, Mohanad Yaqubi, Basma al-Sharif, Raouf Haj Yehya, Basel Abbas and Ruanne Abou Rahmeh, and Bashar Hroub from Palestine. The performance programme includes works by Dirar Kalash (Palestine), Rochus Aust and the 1st German Electrophonic Orchestra (Germany & France), and Esther Ferrer (Spain).
Partnership: A.M. Qattan Foundation (Ramallah), Al Mahatta Gallery (Ramallah), the Khalil Sakakini Cultural Centre (Ramallah), the Centre Culturel Français & Goethe Institute (Ramallah), The Ethnographic and Art Museum at Birzeit University (Birzeit), Les Instants Vidéo Numériques et Poétiques (Marseille), Palestinian Art Court – Al Hoash (Jerusalem), Al-Ma'mal Foundation for Contemporary Art (Jerusalem), Eltiqa Artists House (Gaza), the Centre Culturel Français (Gaza), and Dar al-Kalima College (Bethlehem).