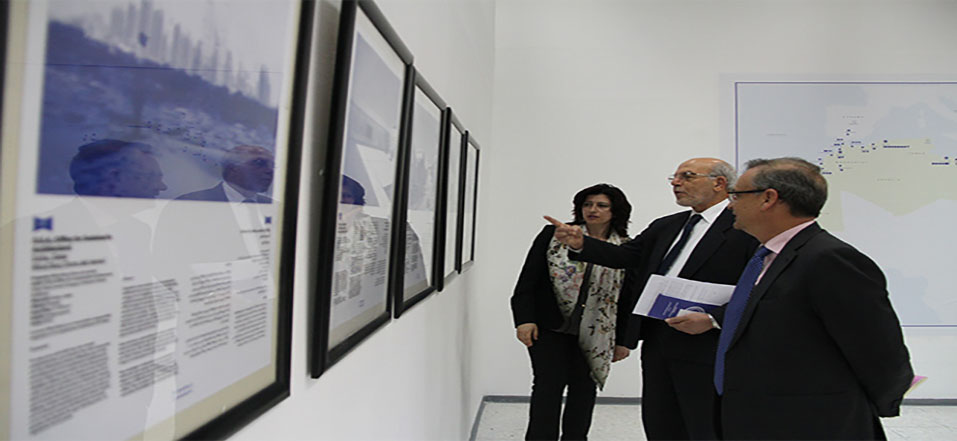 Concept: The exhibition "On journey – Spanish architecture in the Arab world" is offering (39)  posters that present architecture projects  in several Arab countries many of them have been implemented and some are under construction.
This Exhibition organized through a coordination between  the "Arab House" Institution united with "the Higher Council of Architects' Association in Spain" to exhibit works of the Spanish architecture professionals who work in the Arab world, which is on the one hand far from Spain, but on the other hand it's nearby.
The Spanish Representative in Palestine is interested to share the experiences of Spanish architects who designed many distinguished buildings in the Arab world, taking into consideration the evident and explicit links between the Arab and Spanish cultures as well as the historical depth manifested in the architectural projects resulting from cooperation between the Arab Islamic world and the Spanish architects. It is a long-term effort to which the "Arab House" and the Higher Council of Architects' Association in Spain committed and will be committed in the future in sequential work as referred to by the Exhibition title "On Journey".
The Exhibition presents a window for the Palestinian public, in general, and the university students, especially the Architecture Department students, in particular, to get acquainted with contemporary architectural models in the Arab world cities. It also gives an opportunity for cultural and professional communication in this field.
Partnership: Birzeit university museum is offering this exhibition cooperation with A.M.Qattan Foundation and the Spanish Representative in Palestine.