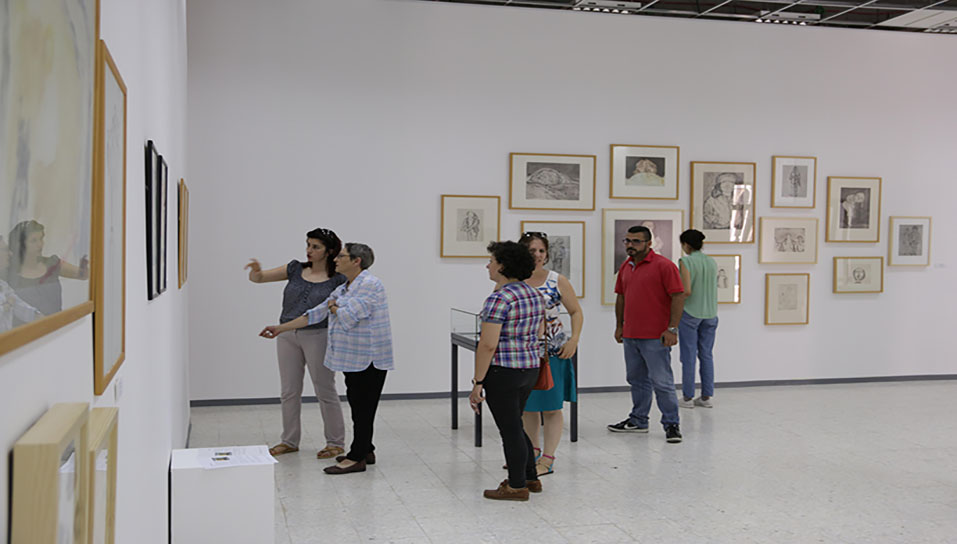 Concept: The project "Introduction to Research: From the Art Collection", which is a part of BZUM's endeavors to foster research-based projects and knowledge production, particularly in connection with its Art and Ethnographic Collections and investigating their relation to the Museum and to the University as sources of knowledge and memory.
This is not an exhibition; it is merely a portion of a rich art collection made open for viewing in the form of resource material, seeking to allow for prospective research to be conceived and to start to develop along various avenues. The richness, diversity and versatility of the artworks in the collection is fascinating and intriguing and have informed this approach, particularly given the obscurity of their relevance to the university and how they ended up in this collection.
The older parts of the collection are especially exciting, mainly those that have been added to the collection in what seemed to be an incremental manner, much done through efforts and connections of Vera Tamari, founder and first director of the Museum. For this project, we have chosen to open up selections from the early-collected works (mid 1990's) by both international and Arab artists. We are also presenting a compilation of research material in the form of articles, documents and catalogues in an attempt to set the ground for research to commence. Included are works by the internationally renowned Lebanese artist Etel Adana, Jordanian artist Mona Saudi, and Syrian artist Marwan Qassab Bashi. Three international artists are also presented: Renee Feurer, Maurice Pasternak and Guy Cobbas well as a wide collection of prints, silk screens and water colour paintings by various artists, many of whom are anonymous to us but which were all collected and donated by Samia Halaby for the benefit of the Museum Collection.
These works have been part of the Birzeit University Museum collection for about 15-20 years. They have become part of its heritage, narrative and legacy, although many of the works, and similarly the artists, are neither connected to Birzeit nor to Palestine in any way. Many questions are immediately raised exploring the meaning of art collections, the role that they play in the construction of histories and in telling  stories of people, places and times, and propose alternative ways of reading and investigating collections of art.
Curator: Rawan Sharaf
Participant: Public invitation
 
Date:
August 1, 2015

to

August 29, 2015