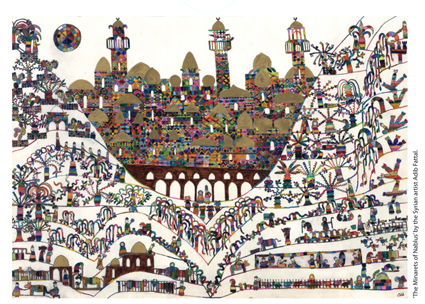 The Cities Exhibition, is a venue for artists to explore the rich history of Palestinian cities. The attempt enables artists to contemplate about occurring changes resulting from social, economic and spatial practices, and their implications on contemporary society.   
The Third Annual Cities Exhibition takes Nablus as its site of exploration. The artistic interventions included in "Between Ebal and Gerzim", endeavour to respond to the city's contemporary challenges by reconnecting current social practices with the historicity of the city's geography and its collective memory. In this exhibition, art is not considered as a reproduction of existing folkloric or contemporary aesthetics, as much as an intervention into the city's socio-political domains. It represents the challenge of bringing back the collective experience of public space in an effort to disclose knowledge and reconstruct the significance of that which has been marginalised.
This exhibition comes as part of the museum program to bring contemporary visual arts closer to the community of the university and the local community at large. It further emphasizes the importance of unconfined artistic practice and interaction.
Curators: Vera Tamari and Yazid Anani
Partners and sponsors: Cities Exhibition, 3rd Edition, "Between Ebal and Gerzim" is produced by Birzeit University Museum in partnership with Nablus Municipality and ArtSchool Palestine. It is sponsored by Arab Fund for Arts and Culture (AFAC), co-sponsored by Riwaq, A.M.Qattan Foundation, Goethe Institute and French Cultural Center in cooperation with the British Council, Arts Faculty and Media Center  at Al Najah University, Al-Mahatta Gallery and Multipurpose Community Resource Center in-Nablus.