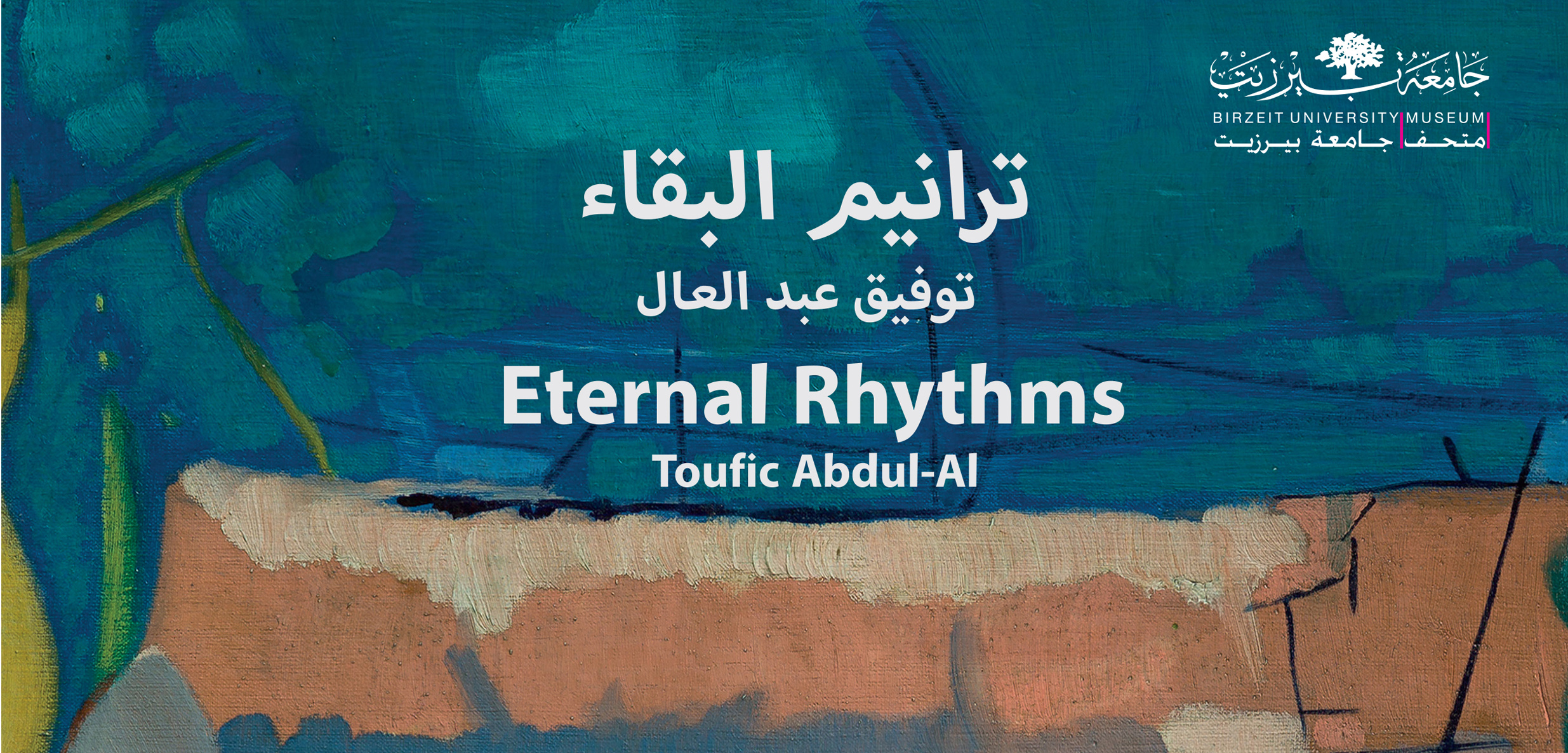 Birzeit University Museum cordially invites you to attend the opening of the exhibition:
"Eternal Rhythms" For the late artist: Tawfiq Abdul- Al
Curator: Nasser Soumi
In cooperation with: Dar El-Nimer-Beirut, Bab i-Deir Gallery-Bethlehem and The Faculty of Art, Music and Design-Birzeit University
Supported by: The A M Qattan Foundation through "Visual Arts: A Flourishing Field" (VAFF) Project, Second Round 2019–2021
Press Release:
On Monday, the 2nd of March 2020, the Birzeit University Museum opens an art exhibition entitled "Eternal Rythms" for the late Palestinian artist Tawfiq Abdel Al. This exhibition comes as part of the art exhibitions' program organized in Birzeit University Museum. This exhibition is held for the second time after being held in Dar al Nimr in Beirut in 2018. Rula Dughman's (Bab idDeir Gallery-Bethlehem) desire, met with Tarek Abdel Al's (son of Tawfiq Abdel Al) and artist Nasser Soumi's (Tawfiq's friend), and Birzeit University Museum, to hold this exhibition in Palestine, for its significance and importance in completing the history chain of the Palestinian plastic art movement. We hope that this exhibition will mark the beginning of an exploration of the artworks of a generation of Palestinian artists following the Nakba, and will open a discussion in the context of Palestinian art history and its pioneers.
The exhibition features many of the artist's works, some of which are original and transported from Lebanon, others are reproductions of large-scale original works. Implications of the Israeli occupation prevent these pieces from being delivered to Palestine.
The artist presented Acre with his brush and colors as he left it during the Nakba, as one would leave his young pretty bride. He depended on his visual memory to revive his hometown and incarnate its softness, prime and pride, demonstrating high technical professionalism and aesthetic sense.
The exhibition will also feature a composed documentary film that includes scenes of daily life in Acre, followed by three short interviews. The first is with the artist's son, Tarek Abdel Al. The second features his apprentice and friend, Fawzi Ba'albaki. The third and final interview is with the curator of Abdel Al's exhibition in Beirut, Nasser Soumi. The interviews are accompanied by documentary photos, paintings and sculptures, as well as readings of Tawfiq's writings and poems.
During his long and busy artistic journey, Tawfiq Abdel Al (Acre, 1938) produced several works from oil, watercolor and acrylic paint, in addition to ink drawings on paper. He also had a special experience in sculpture. His work subjects and media were varied, yet they always reflected the artist's adoration for his hometown, Acre, from which he was forcibly exiled, to settle in Lebanon.
The Palestinian presence in Lebanon, in its various phases, constituted a significant milestone in the cultural history of the Palestinian people. Palestinian existence interacted with the cultural life in Lebanon, which –at the time- was composed of large numbers of intellectuals arriving from all parts of the Arab world, and indeed from the whole world over. All these personalities contributed in one way or another to the Palestinian experience in Lebanon, which all led to the creation of a unique kind of literature and art, a Palestinian taste influenced by variant colors made universal with a Palestinian flavor.
This rich atmosphere had a positive impact on polishing Abdel Al's talent, and allowed him to share his works with his Lebanese counterparts. Moreover, Tawfiq participated in several regional exhibitions with other artists in Beirut, Baghdad, Damascus, Tripoli-of-the-west, in addition to other countries including Turkey, France, Switzerland, Yugoslavia and Portugal. Abdel Al also participated in exhibitions organized by the General Union of Palestinian Plastic Artists, of which he was a founder. The artist made important tactical contributions to the Palestinian national movement. Abdel Al designed several posters and illustrations in newspapers and magazines published by the Democratic Front for the Liberation of Palestine, of which he was an active member.
In regards to the artist's involvement in the Palestinian cause and its reflection in his works, Nasser Soumi explains: "Following al Nakba in 1948, many Palestinian artists fell into the trap of dedicating their artworks to express the displacement and sufferance of Palestinians. This led to alienating these works from artistically interacting with the time in which they were produced. Tawfiq, in his works signed in 1966, did not drive away from the Palestinian issue, but tackled it from a personal perspective, expressing what lies in his soul and whole being. He addressed this issue from his painful experience of permanent forced exile, and from his bleeding wound that wouldn't heal. Besides that, Tawfiq was involved in the artistic wave of his generation's artists, wherever they were. His involvement in contemporary art experiences coincided with his earnest desire to express his dream about his city and passion, Acre. This rare boldness is what created a historical milestone in the Palestinian creativity at the time."
Now that he is gone, the works of Tawfiq Abdel Al return to Palestine to be the witness of time, exile, displacement, deprivation and barriers. In this exceptional occasion, Tarek Tawfiq Abdel Al offers the works of his late father to the art collection in Birzeit University Museum, as he believes it is important to keep them in the university to be available for the public, specifically students, teachers and academics. His wish is that these works remain present in the entities of future generations, and that Acre will remain a vivid and eternal image of a historic city, whose architectural and cultural features were altered by the occupation over time. Yet, it will forever remain as it was seen and represented by her forever faithful son, Tawfiq Abdel Al.