Widowed women Dress
Collection item image: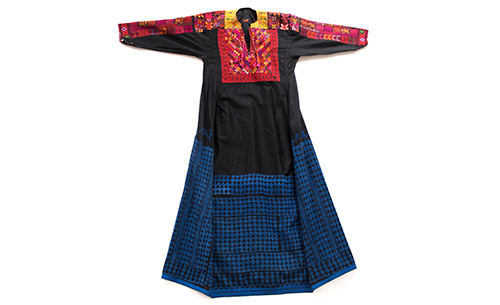 Collection item description:
A dress with intense embroidery work on the chest panel similar to qalayed (necklaces) motif, surrounded with different designs of braidworks including flowers. The neck and shoulders are embroidered from the sides with different motifs, centered with an orange hirmizi needle work with flower shapes. The sleeves show different designs of embroidery, while the banayeq (sidelines) and the front and back sides show intense embroidery work in blue with cypress tree and feather motifs, along with talismans on the top side of the sidelines. 
District:
Beer Sheba (Middle East, Palestine)
Dimensions:
Length: 134.0 cm Width: 121.0 cm