Wide sleeve Dress
Collection item image: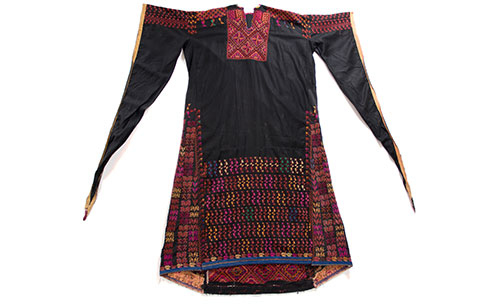 Collection item description:
A black dress with wide open sleeves with heavy embroidery. The chest panel shows geometrical motifs (fans), with colored slot. The shoulders show embroidery known as Nishan (emblem) and the sleeves show intense embroidery of cypress trees with waves that include a yellow braidwork along the sleeve. The sides of the dress show banayeq braidwork stiches with floral motifs topped by a motif Maqas (scissors). The lower front side of the dress shows motifs of cypress branches with different color shades. The back shows the Pasha's tent motif topped by geometrical figure and cypress branches, while the bottom back side (tail) has two blue lines that go around the dress.
Usage:
Celebration dress for unmarried women
District:
Beer Seba (Middle East, Palestine)
Dimensions:
Length: 133.0 cm Width: 112.0 cm