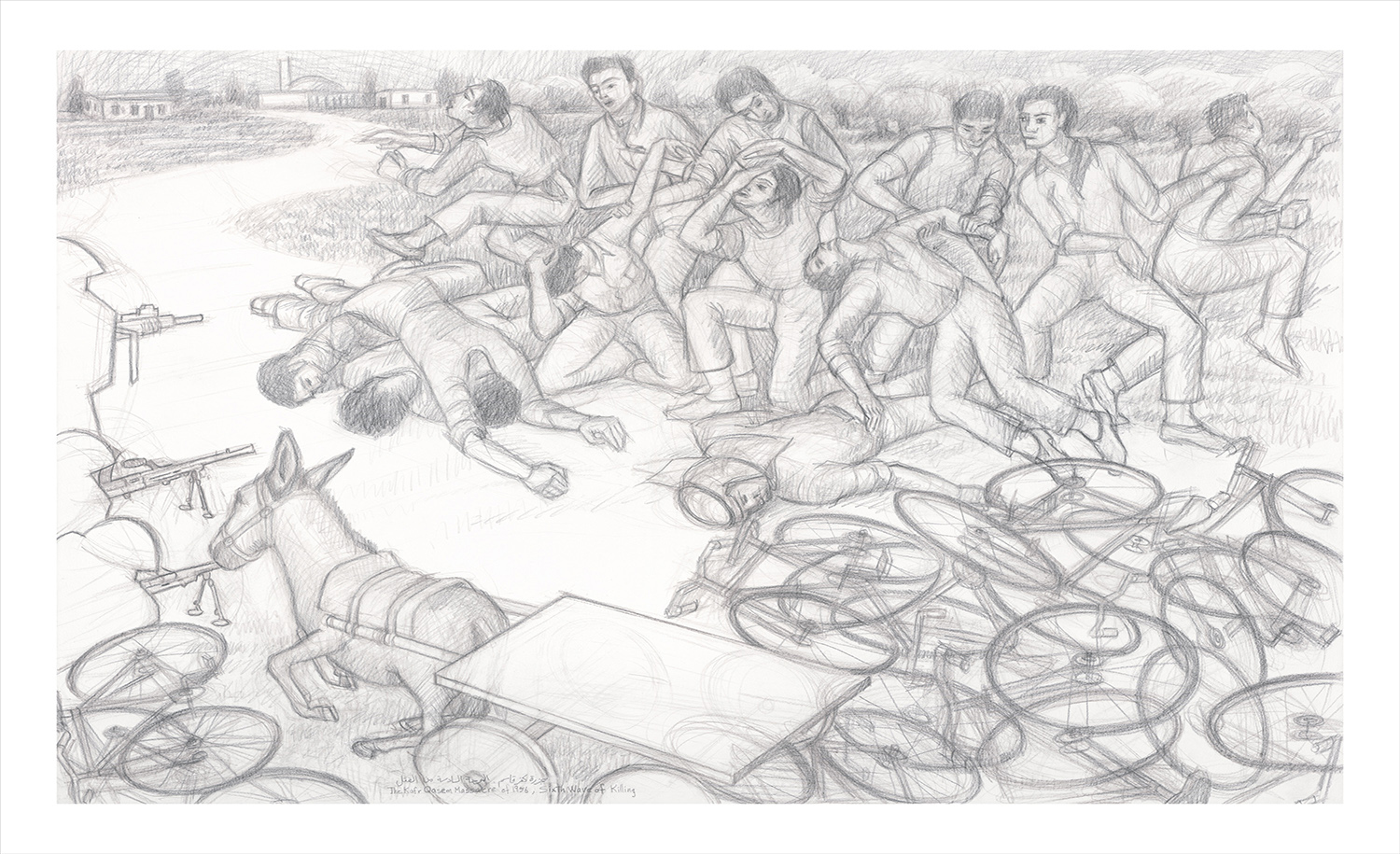 Killed: - Abdallah Abdal-Ghafer Bdier (16 years old)
              - Abed Saleem Easa (29 years old)
              - Ali Nimer Freij (17 years old)
              - Mahmoud Abdal-Razeq Sarsour (16 years old)
              - Saleem Ahmad Bdier (51 years old)
              - Saleh Muhammad Amer (40 years old)
Wounded: - Abdal-Rahman Yacoub Sarsour (16 years old)
                    - As'ad Saleem Easa (24 years old)
                    - Isma'eel Iqab Bdier (15 years old)
                    - Mustafa Khamees Amer known as Abu Injeem
                    - Saleh Khaleel Easa (19 years old)
                    - Tawfiq Hammoudah Bdier
Escaped: two workers.
Drawing number D2150
It was late evening and very dark on the night of the massacre when at gun point the Israeli soldiers forced 13 or more workers to line up on one side of the road. They had arrived singly and in groups on bicycles and one mule drawn wagon. First to arrive and be shot was 17 year old Saleh Easa with his two cousins. They had heard about the curfew and only feared a beating. They were hoping one particularly nasty soldier who always terrorized them would not be among those awaiting them. When ten more workers had been gathered and lined near the fallen Saleh and his cousins, an execution-style shooting began. The mostly young workers sprinted in all directions. Six died. Saleh, one of the five wounded, pretending to be dead, was dragged to the pile of corpses. He remained quiet, gritting his teeth in spite of extreme pain, when the soldiers drove the wagon's metal lined wheels over his foot. As he lay still he witnessed the rest of the massacre and later crawled to safety.