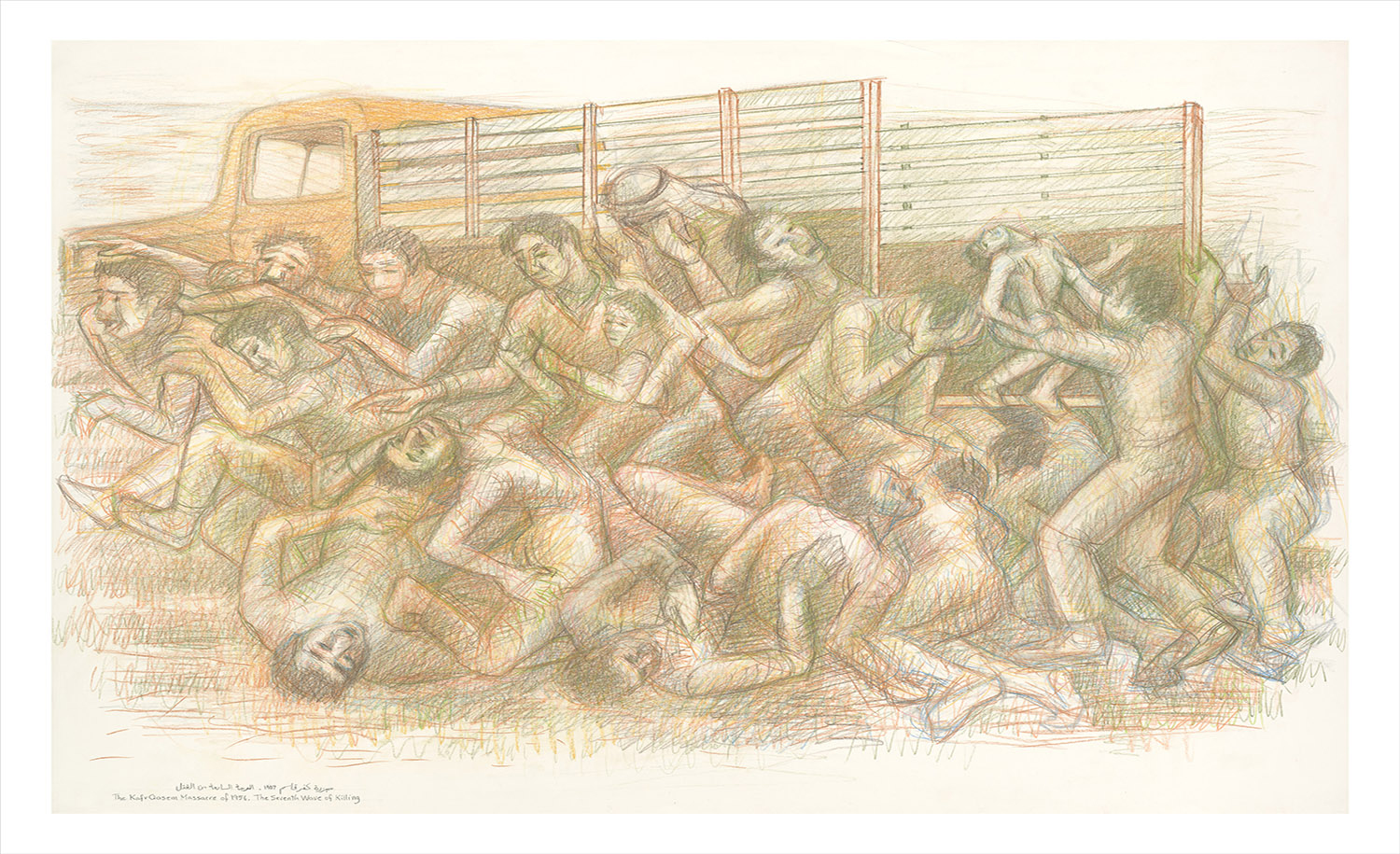 Killed: - Abed Saleem Freij (16 years old)
             - Abdal-Raheem Muhammad Bdier (25 years old)
             - Ahmad Muhammad Amer (17 years old)
             - Ata Yacoub Sarsour (26 years old)
             - Jamal Saleem Taha (11 years old)
             - Jum'a Muhammad Sarsour (17 years old), Safa's older boy.
             - Jum'a Tawfiq Easa (18 years old)
             - Mousa Thiyab Freij (21 years old)
             - Riyad Raja Hamdan (eight years old)
             - Saleh Mustafa Easa (17 years old)
Wounded: - Abdal-Raheem Saleem Taha known as Abu Yazen (17 years old),
                    - Uthman Saleem Bdier known as Abu Yacoub
Escaped: - Easa Diab Freij (13 years old) who was a witness at the military court and brother of Mousa Freij who was killed,
                  - Jamal el-Sous Freij known as Abu Ayyoub
                  - Muhammad al-Aqla Taha
                  - Raja Hamdan Dahoud
                  - and two others
Drawing number D2152
When the village crier announced the curfew less than 30 minutes in advance, two children, eight-year-old Riyad Dahoud and 11 year old Jamal Taha, were sent to inform their kin. Thus, the workers of the Seventh Wave of killing knew of the curfew in advance. After some indecision and a lot of walking, the workers found and persuaded the truck driver, Ata Sarsour, to take them home even though he did not have a permit to transport passengers. When they were nearly home Israeli soldiers carrying submachine guns stopped the truck and forced the workers into a line. After the first shower of bullets the workers all fell to the ground. Raja Dahoud, it was said, was bringing his son Riyad down from the truck when the shooting began. Riyad died. The other child, Jamal, not having been hit, raised his head asking his wounded brother if he was alive, at which point a soldier shot him twice in the head. His brother Abdal-Raheem said, "Jamal hugged my waist with all his ebbing might and died." Of the 19 workers, ten died immediately, many were wounded, while some managed to run away.