Malaq Dress (Ikhdari)
Collection item image: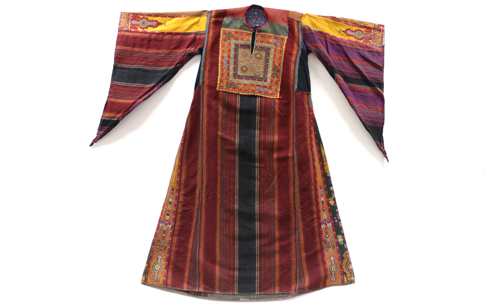 Collection item description:
Malaq dress made with Abu Warda cloth, has a traditional malaq chest panel of flower pots, topped with two pieces of blue velvet cloth with a bird embroidered on it. The neck and shoulders are of red colored cloth and the sleeves are made with silk hirmizi cloth in addition to the original cloth of the dress with embroidered Bethlehem clock and a bird. The banayeq (sidelines) show embroidery of clock and floral motifs in addition to crosses. 
Usage:
For ceremonies (Weddings)
District:
Bethlehem (Middle East, Palestine)
Dimensions:
Length: 148.0 cm Width: 138.cm