Dress
Collection item image: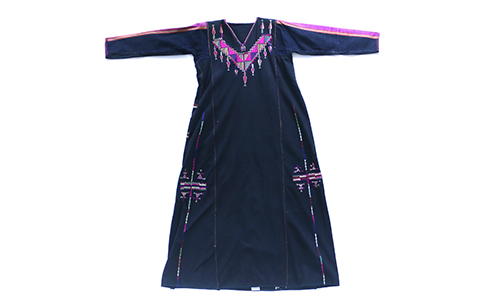 Collection item description:
Black dress with bow motif embroidery and talismans braidwork on the chest panel, with cypress trees coming down from it. The neck slot shows talismans motif. The sleeves have two blue lines of the same cloth, and the front side has only thin longitudinal colored stripes. The banayeq (sidelines) show manajel (thick braidwork connecting the dress parts) and thick horizontal shapes with talismans. The back side has comb like teeth embroidered along with talismans and mawares in the back topped by cypress trees, identical to the back. 
District:
Gaza (Middle East, Palestine)
Dimensions:
Length: 139.0 cm Width: 143.0 cm