Dajani Cress
Collection item image: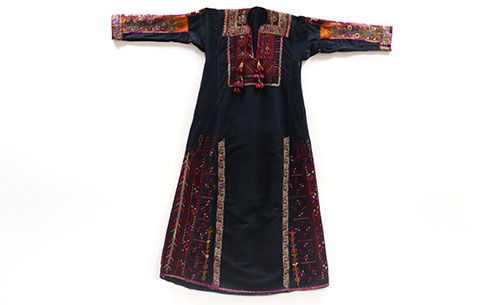 Collection item description:
Black Kittan cloth dress, with chest panel framed from three sides with different colors, surrounding a tashreefa motif and an opening with a vest slot and laces. It is topped with a lulu braidwork that has flowers on both ends. The neck and shoulders are made of red cloth with a thick orange lacing. The sleeves include hirmizi cloth with multiple colors of embroidery and framed by lulu braidwork with flowers. The back side of the dress shows flowers from two sides with an oval in the center. The dress's banayeq include soft floral motifs with geometrical shapes, surrounded by laces of geometrical motifs. A horizontal lulu braidwork with flowers is seen on the center of the dress's front side, while the back shows horizontal briadworks of cypress trees and longitudinal ones similar to the front side. 
District:
Beit Dajan (Middle East, Palestine)
Dimensions:
Length: 135.0 cm Width: 138.0 cm