Ceremonial event dress
Collection item image: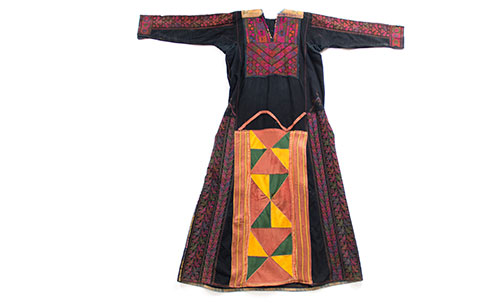 Collection item description:
Black dress with intense embroidery. The chest panel shows bow shaped embroidery which are also known as qalayed (necklaces) as well as floral motifs, while the backside of the panel shows floral motifs embroidered on silk cloth by special stitch.  The sleeves show heavy embroidery of vine leaves, while the banayeq (sidelines) show motfis of flowers, feathers and manajel (thick braidwork connecting the dress parts).
The bottom front side shows patches of yellow, orange and red silk triangles, with Kashmir cloth on the sides. The bottom of the back side has a stitched-in piece of cloth with blue embroidery of birds and flowers. 
District:
Hebron (Middle East, Palestine)
Dimensions:
Length: 140.cm Width: 133.0 cm