Black Roman Dress
Collection item image: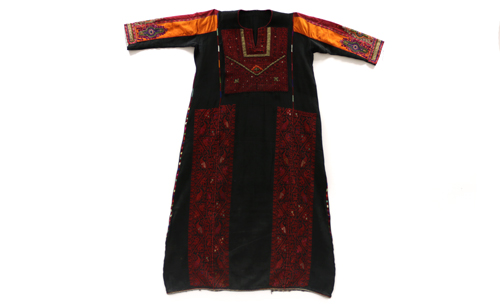 Collection item description:
Black roman dress with bows motif embroidery on the chest pane, especially used in Ramallah areas, along with other floral and geometrical designs. Includes golden qasab thick needlework at the neck slot and above the chest panel. The sleeves, similar to those of the Bethlehem malak dress, have a clock motif embroidery stitched on hirmizi silk. The front side shows traditional mawares braidwork with the ostrich motif. The dress banayeq (sidelines) have manajel (thick braidwork connecting the dress parts) connecting the dress tail to the underarm. The back side is embroidered with the ostrich braidwork and the center shows wheat spike and feathers motif as well as birds. The chest panel has a side pocket.  
District:
Ramallah (Middle East, Palestine)
Dimensions:
Length: 142.0 cm Width: 136 cm